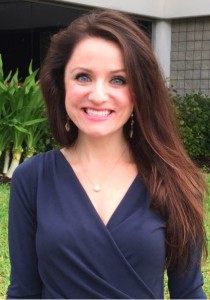 Katherine Drabiak, JD is a legal scholar and Assistant Professor at the University of South Florida College of Public Health. She focuses her research in areas where biotechnology and medical research precede the law. She is interested in how a lack of regulation or circumvention of existing regulation impacts patients and consumers on an individual level; poses conflicts or risks to individuals; and raises questions we must ask as a society about appropriate oversight and utilization of emerging science.
Learn More About Drabiak's Work
Read Drabiak's posts from PredictER News, an online publication from Indiana University Center for Bioethics at Indiana University School of Medicine
In the Spring of 2018, Singapore issued a call for Public Comments on the topic of whether it should repeal the country's current prohibition against germline modification of embryos and permit an exception for Mitochondrial Replacement Therapy. See the story here and here. In response, I submitted Public Comments against modifying Singapore's law, arguing science, policy, and ethics supports a continued prohibition against Mitochondrial Replacement Therapy. A copy of my Comments to the Singapore Bioethics...
read more
This post originally appeared on The Conversation on May 3, 2018. The Food and Drug Administration recently announced its authorization that permits genetics testing company 23andMe to market a test for gene mutations associated with risk of breast and ovarian cancer. In response, 23andMe CEO Anne Wojcicki asserted that the test represents a "major milestone in consumer health empowerment." Media articles following this announcement made it clear even if the test provides an accurate result, there are significant limitations for...
read more
This post originally appeared on The Hastings Center Bioethics Forum on May 4, 2018. Last month, Hawaii became the seventh state, with the District of Columbia, to legalize physician-assisted suicide. Similar to some of the other state laws, Hawaii's Our Care, Our Choice Act permits competent adults with a terminal illness and a diagnosis of less than six months to live to obtain a lethal prescription to use to take their own lives. Proponents assert the new law, in addition to giving patients a measure of control, autonomy, and...
read more
This commentary was originally published as an Essay on the Hastings Center Bioethics Forum here. In the past few weeks media outlets have been reporting on the release of Human Genome Editing: Science, Ethics, and Governance from the National Academies of Science, Engineering, and Medicine. The report concluded that following more research, it would be ethical to initiate clinical trials using heritable, germline genome editing for therapeutic purposes subject to a set of conditions. Described by some as a "fantastic development,"...
read more
This article was originally posted on The Center for Genetics and Society's site here. In the past month, the media has reported seven patient deaths of subjects enrolled in separate gene therapy clinical trials being conducted by Juno Therapeutics and by Ziopharm Oncology, Inc., both aimed at immunotherapy-based cancer treatments that have sparked widespread hope. Despite these deaths, the trials continue to move forward. Media coverage of trials related to gene therapy has portrayed the clinical research rollercoaster.  Just this past...
read more
In the past several weeks, human genetic modification has been dominating headlines.  This time, the controversy surrounded the closed door meeting between 130 scientists, attorneys, entrepreneurs, and government officials to discuss the creation of a synthetic human genome.  The project, called "Human Genome Project-Write Testing Large Synthetic Genomes in Cells" aims to synthesize a complete human genome in a cell line within ten years, with the future goal of translating such basic science into clinical applications.  Rather the...
read more
Media headlines are abuzz around the decision to pull the documentary Vaxxed: from Conspiracy to Cover-Up from the Tribeca Film Festival.  As a disclaimer, I have not viewed the film.  What is deeply troubling, however, is how numerous media outlets (here and here) have misconstrued the film's message calling for an examination of vaccine safety and efficacy.  Instead, headlines and news content repeat erroneous assertions that are contrary to scientific evidence and focus exclusively on the controversial Dr. Andrew Wakefield as a red...
read more
Our genomic sequence constitutes the most sensitive and personal of information: uniquely identifying us, revealing our propensity to develop certain diseases and conditions, and exposing familial connections of close genetic relatives. In recent years, Big Data has taken firm hold in numerous sectors, revolutionizing the volume and velocity at which businesses can collect, curate, and use digital information. Consumers can track what they eat, their fertility, whether they are exercising, and how much they are sleeping. Combining these...
read more
In November 2015, FDA published a startling report, The Public Health Evidence for FDA Oversight of Laboratory Developed Tests, which enumerated serious concerns with the current framework it uses to oversee laboratory developed tests (LDTs). LDTs are tests used by physicians to diagnose disease, predict risk of disease, and guide critical therapy decisions. This report revealed grave shortcomings in test accuracy, reliability, and ability to provide clinically meaningful information to physicians and patients in a number different tests,...
read more